Exceeding the expectations of Wisconsin residents for over 73 years with services that are superior in quality and competitive in price.
---
APPROACH
We at The Mudjackers believe that the people we employ as well as the people we serve make our company successful. Our good reputation with homeowners, foundation repair contractors, architects, and engineers has been a key element to the continuing growth and stability of our company.
---
SPECIALTIES
The Mudjackers specialize in basement foundation repair, foundation waterproofing, installation of helical piers and push piles for new and old structures. Mudjacking of concrete slabs, stabilizing of forge presses, hydro dams, bridge cranes, highways as well as sewer abandonment.
The History of Mudjacking, Slabjacking & The Mudjackers.
The method was developed in 1929 by John Poulter of Mount Pleasant, Iowa. Some of the first mudjacking machines were manufactured by the Koehring Company based in Port Washington, WI. The mudjacking machine was developed over 65 years ago. Concrete slab structures are rigid and durable if properly constructed, and depend largely on their support or base for maximum life and service. For various reasons, voids sometimes occur beneath or around the slab structure causing slab failure. To alleviate these conditions the Mud-Jack machine was developed. It is now a time-proven, cost-effective means to restoring concrete slabs to proper grade.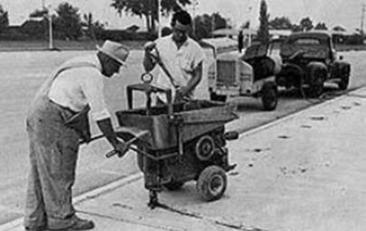 In 1974 Woody's Development work at IBM in Rochester Minnesota the front of the Dump truck had the name The Mudjackers which later became the name of the company. Frank C. Sharkey Mudjacking contractors was one of the first independent contractors established in 1939. The business merged with Woody's Development / The Mudjackers in 1968.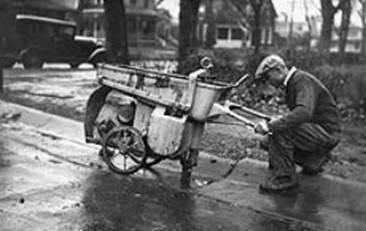 Mudjacking in Mt. Pleasant, IA in the fall of 1933. The mudjacking machine was developed over 65 years ago.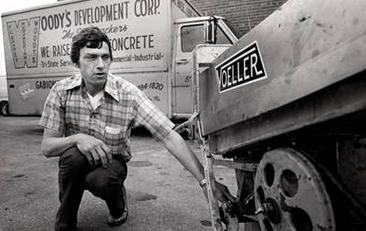 In 1974 Waukesha Freeman interviewed Woody Wilson of Woody's Development Corp which later became The Mudjackers. If you look close at the truck behind Woody the name The Mudjackers was already part of the company's name.
---
---
MAIN OFFICE
The Mudjackers, LLC
S29 W27296 Green Ln
Waukesha,WI 53188
---