Exterior Basement Waterproofing
If you have a leaky basement, you undoubtedly have been in the market for basement waterproofing. But making sense of the many different types and brands of basement waterproofing can be somewhat of a daunting task. Determining your needs and long-term plans for the basement is beneficial in choosing the best basement waterproofing for the job. Our highly trained professionals are here to help you accomplish just that.
Every basement is different. Your foundation may be fieldstone, concrete block or cement. Whatever the case, at some point it will be penetrated by water or moisture and the end result is always the same – a damp, wet, or flooded basement.
Water intrusion can occur anywhere at any time in a basement it is just a matter of when. Unusual seasonal freezes and thaws, earthquakes and settling of the foundation are of the primary causes of water infiltration and typically cannot be predicted.
We provide best-in-class basement waterproofing solutions. Whether you need downspout extensions, minor cracks repaired, a sump pump installed, or a full perimeter basement waterproofing system – we have the products and expertise to keep your basement safe and dry – guaranteed. There are a variety of components to a complete basement waterproofing system.
Waterproofing Block And Poured Walls
1. The wall is excavated to the footing and old drain tile is removed. 2. Bleeders are flushed clean or installed if not present. 3. The wall is pressure washed to remove all debris. 4. The cracks in the wall will be repaired and re coated with masonry cement. 5. The wall will be coated with Marflex waterproofing to seal the wall. 6. Wall will be backfilled with ¾ inch washed stone 20 inches from grade covered with a below grade geotextile filter fabric in areas. 7. Finish backfilling trench areas with impervious fill to within 6" of ground surface, place topsoil to finish grade height and pitch soil away from building.
Water Doesn't Stand a Chance
Mar-flex 5000 is a heavy duty, elastomeric emulsion waterproofing membrane. It is a highly rubber-fortified waterproofing product with decreased permeability and increased durability.
Product Advantage
Produced from virgin materials of the highest quality. Can be applied to any block or poured wall. Provides industry-leading waterproofing technology at an affordable price. Able to resist freeze-thaw cycles while remaining flexible.

Interior Basement Waterproofing
THE MUDJACKERS IS A LICENSED BASEMENT TECHNOLOGIES INSTALLER
"THE BEST BASEMENT WATERPROOFING PRODUCTS ON THE PLANET"
The most effective waterproofing systems are installed in the inside of the home. When interior drainage systems are installed, they need a central ejection device – a way to get the water from the basement to the outside of the home. Our patent pending Water Grabber® Bull Dog™ is the heart and lungs of our perimeter system. The Water Grabber® Bull Dog™ consists of a patent pending drilled polyethylene basin with a split or solid lid. We use 3/4" gravel to surround the basin and help filter the water. The pumping device is a 1/3, 1/2 or 3/4 H.P. cast iron pump rated at approximately 3,000 - 4,200 gallons per hour and will pump up to 1/2" solids.
BASEMENT TECHNOLOGIES SUMP. WATER GRABBER® BULL DOG™
11 possible configurations that encourage Battery Back-Ups and redundant pumps. Options for hidden pipes. Square pump housing does not look like a pump. Complete with Alarm and top of the line B.T. pumping unit available in 1/3 – 3/4 HP. Our high cycle pump, the Powerhouse Turbo, now comes with Wi-Fi capability as an option.
The new "Wi-Fi capability" catapults us into a new age of reliability and account­ability.
IF YOU HAVE A POWER OUTAGE OR PUMP FAILURE YOUYOU CAN NOW BE AUTOMATICALLY ALERTED BY SMS OR EMAIL!
PONI ® POWERGARD
is an innovative power station designed to operate your pump during a power outage. When electricity is present, the PONI ® POWERGARD Charges a 12-volt battery and monitors the power line. At the instant that a power failure occurs, the Pump Sentry converts the energy stored in the battery to AC power to operate your pump. When AC utility power is restored, the PONI ® POWERGARD automatically switches your pump back to AC utility power, recharges the battery, and resumes monitoring the power line.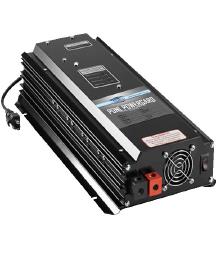 Stallion Eliminator
The Stallion Eliminator battery operated backup sump pump is designed to backup primary residential pumps in case of pump or power failure. It is a must in situations where an inoperative sump pump is not an option.
The Stallion Eliminator has a separate float switch and built-in alarm that automatically starts the backup system and activates a warning buzzer to protect against high water damage and warns of primary pump failure. An accepted reality in basement waterproofing is that the most reliable basement waterproofing systems include a backup pumping unit. Basement Technologies' primary and secondary pumping units run on electricity and may come unplugged, trip a circuit or shut off. For that reason, we recommend battery backup units and secondary pumps be installed at each and every pump location. The Stallion Eliminator is self charging, runs automatically during a power outage and provides backup to the standard pump in case of mechanical failure. The pump will also operate if the main pump cannot with water inflow.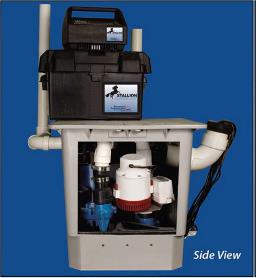 DRAIN TILE / WATER TREK INSTALLATION
PIPE AND STONE.
• Remove floor along wall area (12" to 18" wide) to be repaired to allow replacement of interior drain tile. • Remove existing drain tile and flush with water to sump crock or palmer valve. Check for correct drainage. Check with local jurisdiction if palmer valve is permitted. • Replace drain tile at floor removal area with polypropylene drain tile and encase new tile with proper filtering stone. • Drill one (3/4 to 1 inch) drainage hole into the bottom of first course per core, under floor line, for block drainage. Holes shall be cleared for proper drainage. • MTI Wall drainage board shall be installed at least 1" minimum higher than finish floor height and against first course to assure passage of water flow. • Wall drainage board must be able to be sealed off to provide radon mitigation if necessary. • Test wall drainage board: Drill holes at the third to fourth block above the footing and every 3 to 4 feet horizontally for the entire wall where possible. • Replace floor where removed. Minimum thickness not to be less than 1" from existing thickness.
WATER TREK AQUA ROUTE®.
2 Patents – Custom Tailored to each sub-floor situation. Addresses water from in front of and over the footing. THE "TOTAL PEACE OF MIND SOLUTION". The Water Trek Aqua Route· system is a unique patented system that can be "custom tailored" to each basement water problem and footing configuration under the floor. It addresses water from both sides of the footing and can be installed in any soil or subfloor situation. Trust your home to the leading name in basement waterproofing ...
DEHUMIDIFICATION and DRY AIR TECHNOLOGY SYSTEM
Dehumidifiers & Moisture Control
Our revolutionary basement dehumidifiers and crawl space dehumidifiers address humidity and condensation by drying under the slab before moisture enters. Basements are similar to a cave – they are below ground level (subterranean) and are conducive to a damp, wet environment that more often than not, requires proper dehumidification. Independent studies have shown that up to 80% of moisture in basements originates from under the floor! If the source of the dampness is addressed, then 80% of the problem is eliminated. The cooler temperatures in crawl spaces (and basements) create unique humidity control challenges for homeowners. The earth under the soil in a basement or crawl space remains at a near constant temperature of S0-600F year round. The ground keeps the surface soil in basement or crawl space cool. These cool surface temperatures create micro-environments where the relative humidity of the air approaches its saturation point (100% RH) and condensation (or sweating) can occur. The conditions that result support mold/ microbial growth and cause musty odors. Often the only way to maintain the EPA's recommended humidity levels for homes is 50% RH or less year round is with the addition of a high capacity, high efficiency dehumidifier. Capacities for residential dehumidifiers are measured in pints of water removed per day at standard conditions. Standard conditions are determined by the American Home/ Appliance Manufacturers (AHAM) and are used because capacity will vary under different conditions. AHAM standard rating conditions are 80 F and 60% RH. The capacity of the Air Mop® Ill °is 90 pints ,,,., per day. Most standard residential units range from 20 to 65 pints of water removal per day. However, most basements and crawl spaces are cooler than 80°F and therefore the water removal capacity of the standard residential unit will be diminished significantly. A large capacity dehumidifier is necessary to ensure that enough moisture is removed at the real world temperature of your basement or crawl space to prevent mold, mildew and bacterial growth. The Air Mop® Ill is a large-capacity dehumidifier designed for these cooler applications.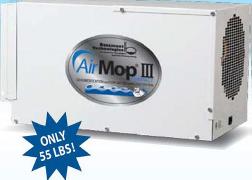 MAIN OFFICE
The Mudjackers, LLC
S29 W27296 Green Ln
Waukesha,WI 53188
---